8 April, 2019
Zingermans Rustic Italian Loaf
Posted in :
Breads
on
by :
asclavijo
Tags:
bread
,
italian
,
zingermans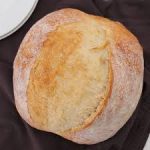 Print Recipe
Zingermans Rustic Italian Loaf
Ingredients
Poolish
3/4 c + 1 Tbsp

All purpose flour

1/2

cup

Water

room temp

1/8

tsp

Instant Yeast
Dough
2 1/4 C + 1 tsp

Water

room temp

above

Poolish

1/2

tsp

Instant yeast

6

cups

All purpose flour

1 Tbsp + 1/2 tsp.

Sea salt
Instructions
Mixing the Poolish
Combine the all purpose flour, water, and yeast in a medium mixing bowl and mix together until incorporated

Cover the bowl with plastic wrap and ferment at room temperature for 8-12 hours
FOR CONVENTIONAL OVENS, PREHEAT OVEN AND BAKING STONE TO 450F 1 HOUR PRIOR TO BAKING
Mixing the dough
In a large bowl, add the water, polish, and yeast and combine thoroughly using a wooden spoon.

Add half the flour and mix with a wooden spoon. The mixture will resemble thick pancake batter

Add the salt and remaining flour and stir the dry and wet ingredients together.

Continue mixing until the dough becomes shaggy and starts to just barely form a ball. Scrape down the bowl and turn the dough onto your work surface.

Knead the dough for 6-8 minutes. Check the gluten development with the windowpane test.

Spray the bowl or a container with nonstick spray.

Put dough back into the mixing bowl or container. Cover with plastic. Ferment for 3.5 hours

Preheat the oven and baking stone 1 hour prior to baking.

Uncover the dough and turn out onto a floured work surface. Divide into 2 equal pieces.

Gently form each piece of dough into a round ball. place the dough onto a lightly floured surface and let rest for 15 minutes, covered with plastic.

After 15 minutes, shape the balls into the desired shapes and place them seal side down in a floured linen.

After 1 hour, check the loaves to see if they are ready to go into the oven. Use the finger poke test. When the dough springs back about halfway from a light fingertip touch, it's ready to bake.

When the loaves are ready to bake, score the loaves with a very sharp knife and bake on the pre-heated baking stone, with steam. Bake 30-35 minutes until nicely browned and they sound hollow when tapped on the bottom.
Nutrition
Calories:
138
kcal
|
Carbohydrates:
29
g
|
Protein:
4
g
|
Fat:
1
g
|
Saturated Fat:
1
g
|
Sodium:
30
mg
|
Potassium:
44
mg
|
Fiber:
1
g
|
Sugar:
1
g
|
Vitamin C:
1
mg
|
Calcium:
6
mg
|
Iron:
2
mg