20 February, 2017
Jamie Oliver's pappardelle with amazing slow-cooked meat
Posted in :
Beef
,
Main Dish
,
Pasta
,
Slow Cooker Recipe
on
by :
asclavijo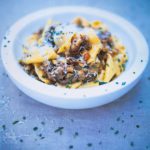 Print Recipe
Jamie Oliver's pappardelle with amazing slow-cooked meat
Ingredients
1 - 28

oz

boneless braising meat

round steak

Extra-virgin olive oil

1/8

c

rosemary

stems discarded and finely chopped

1/8

c

thyme

stems discarded and finely chopped

1

red onion

peeled and finely chopped

4

cloves

garlic

peeled and finely chopped

1

carrot

peeled and finely chopped

1

celery stick

finely chopped

10

oz

Chianti

2 - 14oz

cans

plum tomatoes

salt

Ground black pepper

14

ounces

fresh or dried pappardelle

4

tablespoons

unsalted butter

.5

c

Parmesan cheese

grated, plus more for garnish
Instructions
To make the Pappardelle with Amazing Slow-Cooked Meat on your stovetop, season the meat with salt and pepper. (It can be cut into large 2-inch chunks if it's beef, venison, or wild boar; left whole if it's squab (pigeon); or cut into 5 or 6 pieces if it's rabbit.) Place a Dutch oven or other deep-sided pot over medium-high heat. Add a little olive oil and the meat, being careful not to crowd the pot, and cook until golden brown on all sides. It may be necessary to work in batches; if so, return all the meat to the pot after it's browned.

Add your herbs, onions, garlic, carrot, and celery to the meat in the pot, reduce the heat, and continue to cook, stirring occasionally, until the vegetables have softened, about 5 minutes. Pour in your red wine and simmer just until the liquid has almost completely cooked away but has left you with a fantastic color and fragrance.

Add the plum tomatoes and just enough water to cover the meat by about 1/2 inch. Cover to retain as much moisture as possible while cooking.

Cook over really low heat at a super gentle simmer for 2 to 3 hours. The exact timing will depend on the tenderness and type of meat. You'll know that the meat is ready when you can literally tug on it with a fork and the meat easily pulls apart in strands so tender you go wobbly in the knees.

At this point, season the braised beef mixture with salt and pepper to taste and let it cool slightly before removing the meat from the pan. Using 2 forks, pull apart all the lovely pieces of meat, throwing away any gristle or chunks of undissolved fat. Skim any fat from the surface of the braising liquid. Return the shredded meat to the pot and place over low heat.

Bring a pot of salted water to a boil and cook your pappardelle for 3 minutes if using fresh pasta or according to the package instructions if using dried. Once it's cooked, drain it in a colander, saving some of the cooking water.

Remove the pot of braised beef from the heat and stir in the butter and Parmesan along with a little of the reserved pasta cooking water—this will make it juicy and shiny. Toss the beef ragu with your drained pasta and, if desired, serve sprinkled with a little finely chopped fresh rosemary and some more grated Parmesan. Serve immediately.
Notes
SLOW COOKER VARIATION
The term "amazing" still applies to this recipe when it's made the lazy, er, harried cook's way in the slow cooker. Perhaps even more so since it's so ridiculously easy. Just toss everything in the slow cooker. No need to brown the meat or vegetables in a skillet first (although if you can spare the time to do so, you will be justly rewarded with a slightly more complex flavor). No need to add any water.  And you may want to consider either swapping fresh herbs for dried or, if you prefer fresh, adding them only during the last hour or so of cooking. Cook on low for 8 or so hours, until the meat is fall-apart tender. If the sauce seems too liquidy, simply remove the meat, crank the slow cooker up to high, and simmer until the liquid is reduced to the desired consistency. Continue with step 5 in the instructions above.
Nutrition
Calories:
319
kcal
|
Carbohydrates:
17
g
|
Protein:
29
g
|
Fat:
12
g
|
Saturated Fat:
6
g
|
Trans Fat:
1
g
|
Cholesterol:
96
mg
|
Sodium:
176
mg
|
Potassium:
474
mg
|
Fiber:
1
g
|
Sugar:
1
g
|
Vitamin A:
1572
IU
|
Vitamin C:
4
mg
|
Calcium:
121
mg
|
Iron:
3
mg